Though Specialized Horsemanship shares many qualities with Relationship-Based Horsemanship, these disciplines focus on distinctive training paths to achieve particular goals.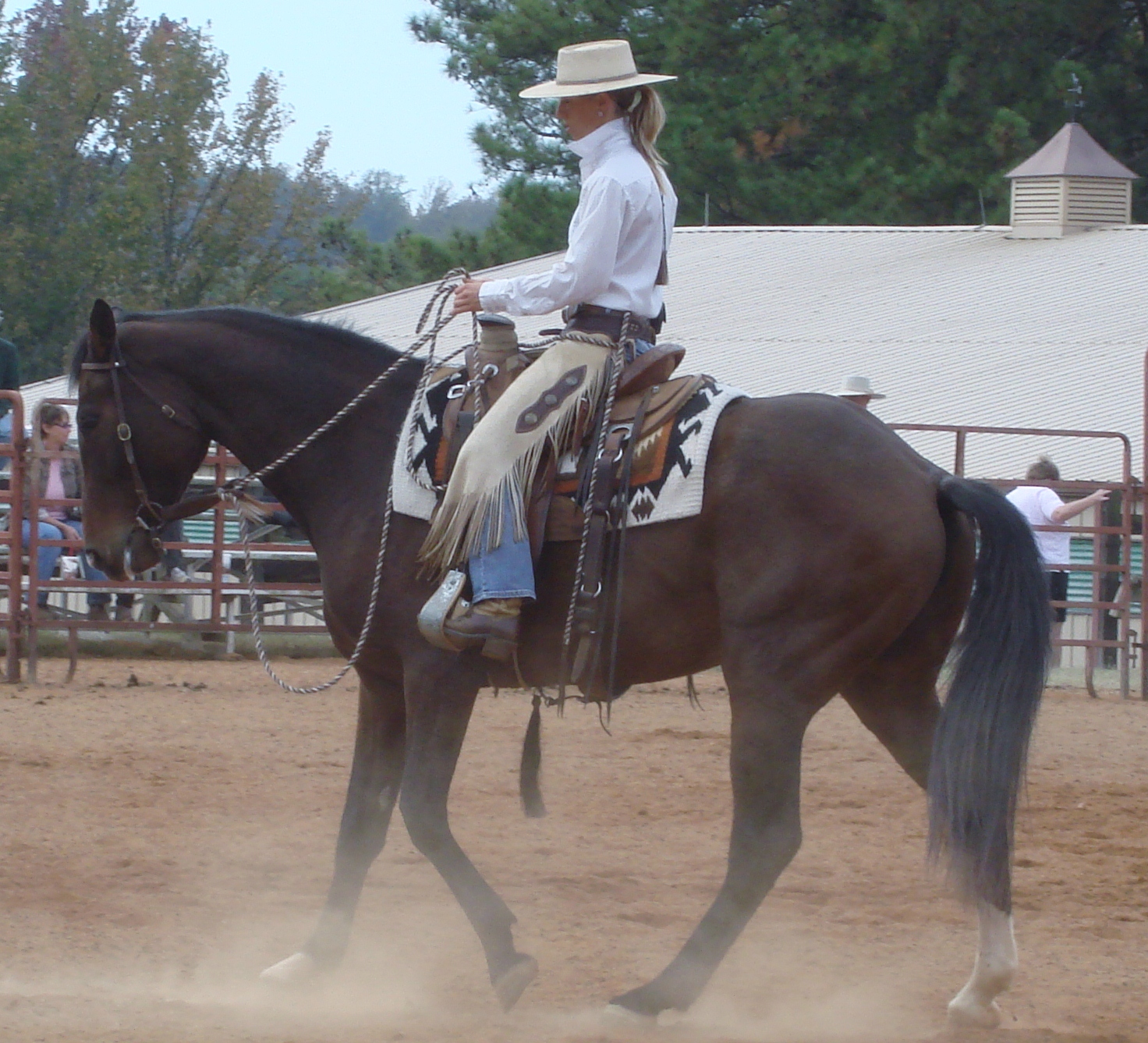 Vaquero
Vaquero Horsemanship is a horse development program that has the express purpose of preparing for AND performing a job on a horse.  It is a highly purpose-driven art form, developing a highly dependable and functional equine partner who can take the rider into the most difficult situation and be trusted to be a true partner. The horse is methodically exposed to scenarios and environments which progressively develop his ability to focus and problem solve. This style was designed for the working ranch hand interested in reaching upper levels of horsemanship while getting the day-to-day jobs done such as cutting a cow or roping. Practicality is paramount, but also honoring a tradition of developing a horse slowly using the stages of Snaffle Bit, Hackamore, Two-Rein, and Spade, conditioning the horse to respond from the lightest of signals, not leverage. In order for a horse to be considered a 'finished bridle horse', he must not only be able to perform all the basic and more advanced maneuvers but also needs to be able to do them whilst performing a task.  The finished product, when done well, is a horse that can be ridden one-handed, i.e. 'straight up in the bridle,' and get a job done with class.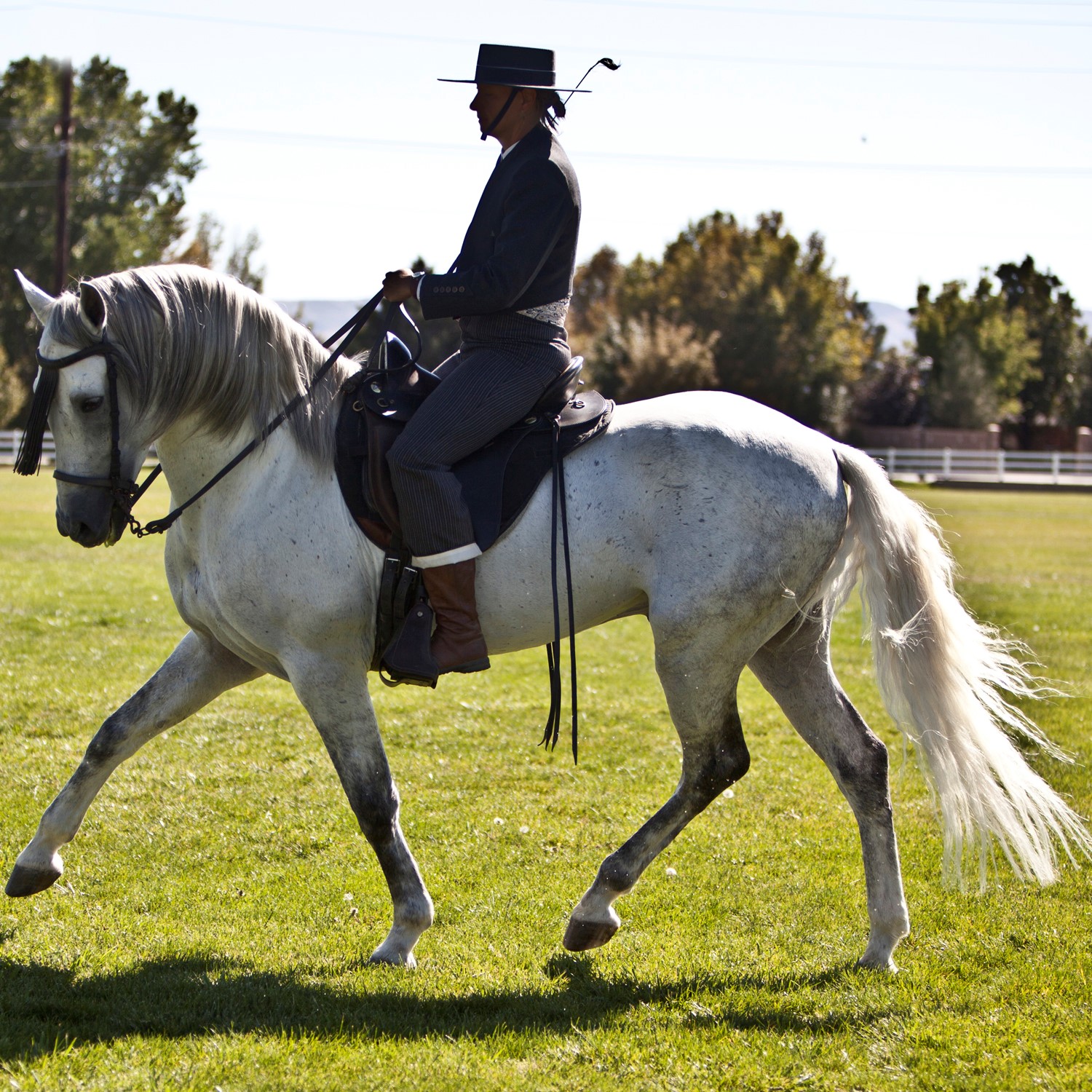 Classical Horsemanship
Classical Horsemanship is a principle-based approach developed to educate a horse for higher levels of riding. To accomplish this, Classical Horsemanship uses a positive contact to develop symmetry, balance, and lateral work that will promote the correct bio-mechanics for the health and longevity of our horses. It focuses on educating the horse to the hand from the ground and then transitioning to the back so the horse understands what is being communicated. Classical Horsemanship is not a competition, but pursued more for nurturing the athletic development of the horse and the joy of watching the horse perform as a moving work of art.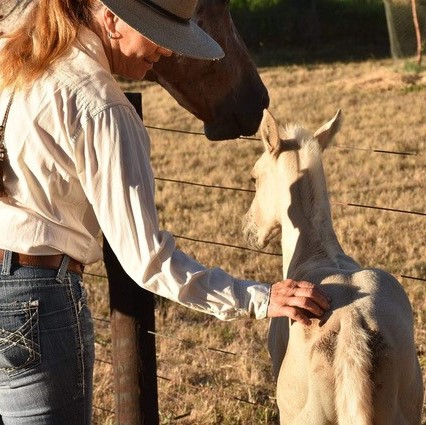 Foundation Training
Foundation Training involves either the start of an untrained <horse, usually a foal, or the re-starting of any age of equine that was never exposed to the basics of the human/horse relationship. The main goal of foundation training is to set the horse up for future success. Foundation training may focus on a specific field or may teach a horse a wide-ranging set of skills to prepare the horse for a variety of careers.
Foundation training exposes horses to new environments and a variety of situations to boost their confidence and build trust. Foundation training involves teaching the horse to be comfortable doing a variety of things, from touching to trailer loading. All equines benefit from this training no matter how old they are when they receive it.
Every day, horses provide necessary services for humans in many different capacities. Everyday horses, along with their human partners, help us to stay safe and provide comfort and healing.
Equine Therapy
EAAT (Equine-Assisted Activities and Therapy) encompasses a range of treatments that involve activities with equines to better the health of humans. These specific therapies have been used to treat individuals with physical, cognitive and emotional issues:
Therapeutic horseback riding involves a therapeutic team, usually including a certified therapeutic riding instructor, two or more volunteers, and a horse, to help an individual ride a horse and also interact with the horse on the ground. 
Equine-assisted learning (EAL) is described as an "experiential learning approach that promotes the development of life skills ... through equine-assisted activities."
Equine-assisted psychotherapy (EAP) does not necessarily involve riding but may include grooming, feeding, and ground exercises. Mental health professionals work with clients and horses in an experiential manner to help the clients learn about themselves and others.
Equine-Assisted Activities (EAA) incorporates all of the above activities plus horse grooming, and stable management, shows, parades, demonstrations, and the like.
Hippotherapy involves therapists working with horses to help improve the functionality of sensory neuromotor and cognitive systems.
Professional Association of Therapeutic Horsemanship International
Equine-Assisted Growth and Learning Association
Equine Gestalt Coaching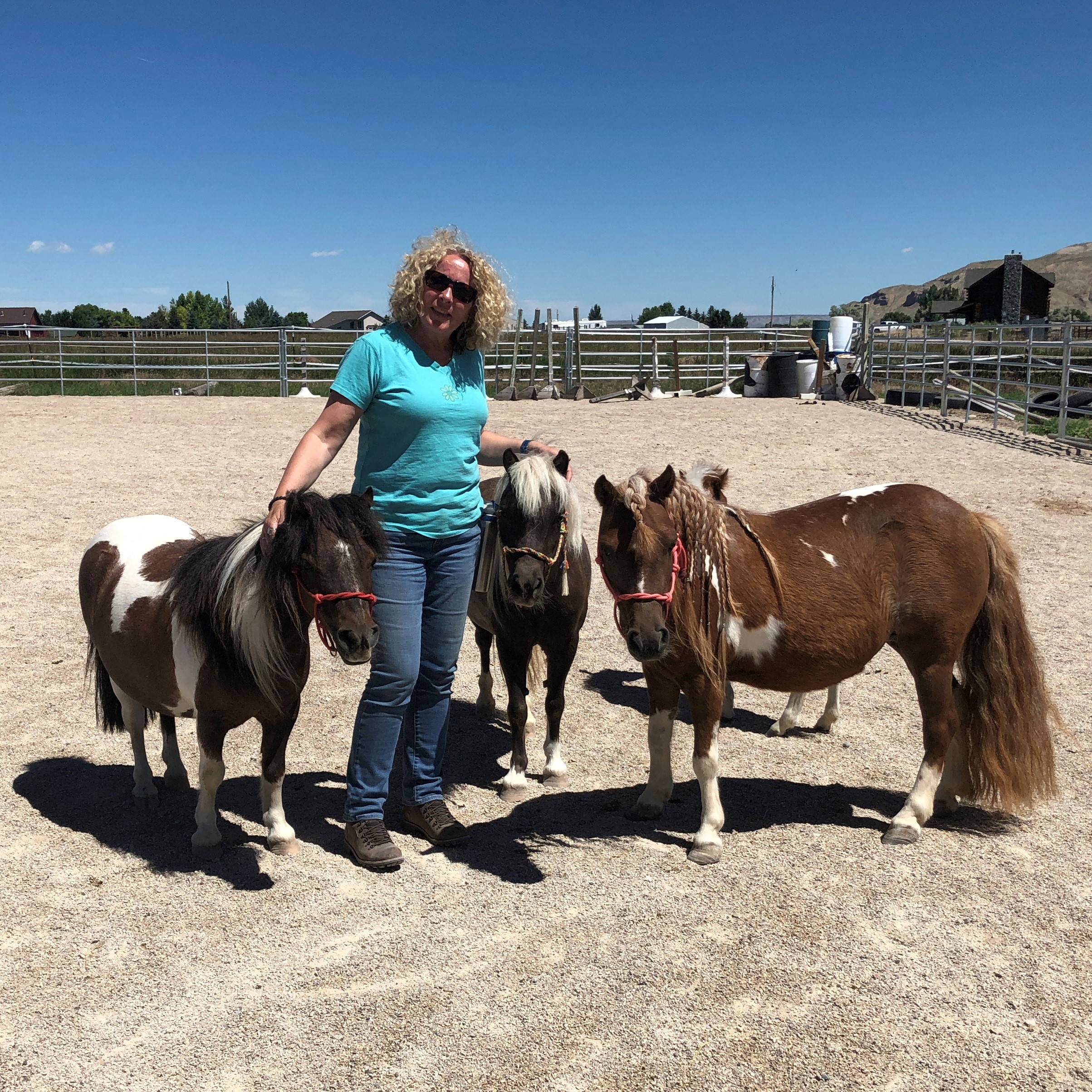 Disability Service Equines
The Americans With Disabilities Act (ADA) allows 2 types of animals as service animals. Most people know that dogs are the first animal permitted. What most people don't know, is that miniature horses are the other! Service equines are best know for being an exceptional guide animal and also for their work in helping individuals with disabilities that effect their mobility. Unlike dogs, service equines can help individuals greatly more with stability to help keep them safe. Service equines have also been making great strides for people with mental disabilities such as PTSD because of their calm and relaxing nature.
A few other reasons for individuals owning a service equine can be because of dog allergies or for individuals who would like to have an animal companion that lives longer, and miniature horses are known to live 35+ years. Service equines meet most of the same requirements as service dogs. They are trained to be calm, house trained, and comforting to their human companions to help them in their pursuit to live a happy, healthy life.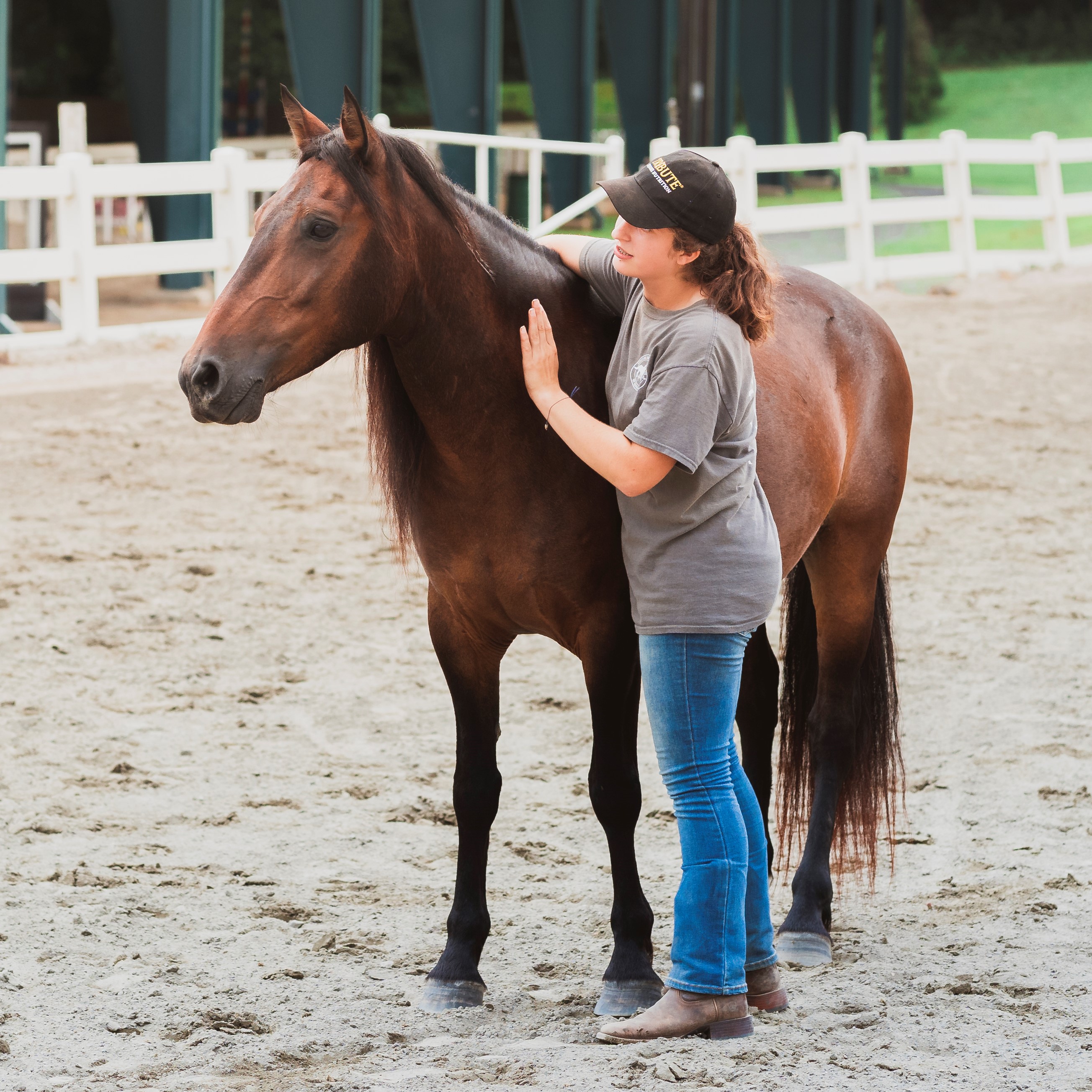 Search and Rescue
Search and rescue horses are used for a variety of purposes. Horses are often chosen over vehicles in difficult terrain but also to allow uninhibited hearing as vehicle motors could drown out important sounds. Some search and rescue horses are specially trained not only as a means for transportation, but also as a valuable asset in these situations. Equines and their human partners train one-on-one to communicate what the other observes. By nature, horses are very attuned to their surroundings and are considered to have a greater range of sight, smell and hearing then their human companions. Equines are therefore trained to communicate their perspective of the world around them to their human partners that may have otherwise gone unnoticed.
One specialized search and rescue horse is the 'air-scent' equine. Instead of scent dogs that tracks specific smells, 'air-scent' equines are trained to indicate when they pick up scents of humans in the vicinity or on the wind. Unlike dogs, equines have a larger range to work with as they can have their senses can be either close to the ground, or more than 7 feet high. The main training of a search and rescue equine is trust; trust between them and their human companion to stay calm and get the job done.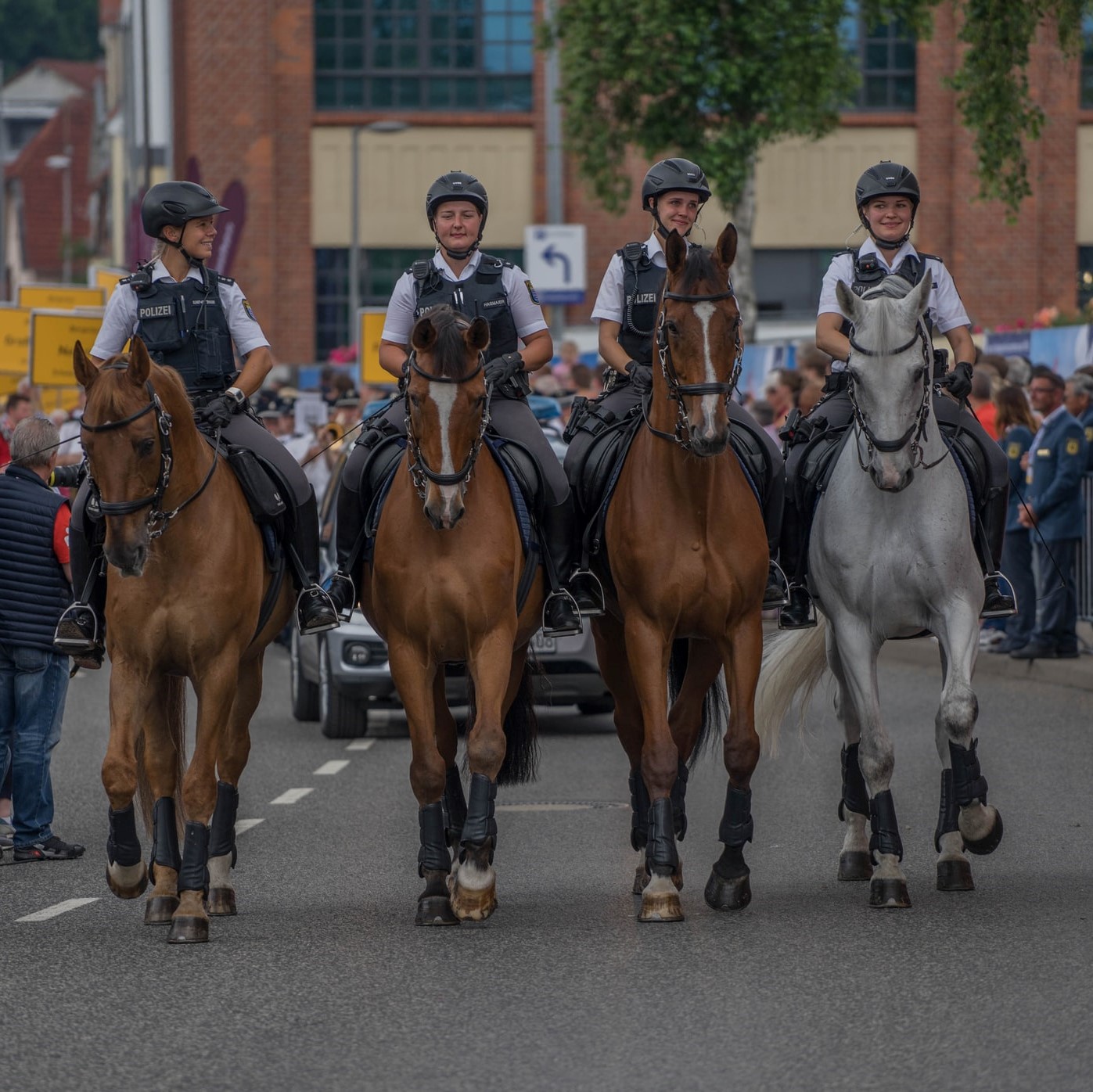 Mounted Patrol
Throughout the world, equines are still being used as mounts for police officers. These horses are trained to be calm but responsive in noisy, busy and chaotic situations. Often, police are trained with their equine partners to communicated effectively and work as a team in a variety of circumstances. Police equines are often use for the following reasons: visibility, easy maneuvering, and crowd control.
On top of a horse, police are stationed high which not only allows them greater visibility, but also for others to see them more easily to. The goal is to reduce crime with their presence. Mounted on equines, police can also maneuver in places patrol cars could not and can often help them respond quicker in certain situations. Finally, police horses have been proven to be effective with crowd control. Horses are large animals, and coupled with their relationship with their human partners, a few mounted officers can much more easily help control or calm a crowd. Person to person contact ca vary who has control, but in a human on horse interaction, humans don't often stand a chance in a shoving match.
Don't see your discipline listed on this page? We recognize there are many different pathways for pursuing your passion for horses. If you have another you would like to see listed, please feel free to reach out to us!
The IHA desires to connect students of the horse with top-notch horsemanship instructors and trainers from all over the world. Please visit the Directory of Professionals to find support for you in your journey.